Business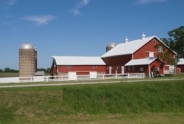 "Please see the industry categories below. Click on a category to see the jobs that are available"
USDA AG Census
Last Modified: March 20, 2023
DFBS Report_Sept 2022
Last Modified: September 1, 2022
"If you want good employees, be a good employer:"
Last Modified: February 8, 2022
STATE AGRICULTURE COMMISSIONER ENCOURAGES THE AGRICULTURAL INDUSTRY TO APPLY FOR
Last Modified: December 7, 2021
Labor Roadshow V
Last Modified: November 2, 2021
Back to Basics: Calf Barn Ventilation
Last Modified: September 9, 2021
Benchmarking calf growth and performance on northern New York dairy herds
Casey Havekes, Dairy Management
North Country Regional Ag Team
Last Modified: September 9, 2021
Regional Agricultural Business Development Associate Extension Support Speciali
Tatum Langworthy, Sr. Administrative Assistant
North Country Regional Ag Team
Last Modified: April 8, 2021
Updates to the Paycheck Protection Program Extend Access to Small Farms
Last Modified: March 16, 2021
AGRICULTURAL SEASONAL WORKER COVID-19 TESTING INITIATIVE
Last Modified: September 14, 2020
Technology Corner
Kelsey O'Shea, Agriculture Business Development
North Country Regional Ag Team
Last Modified: June 29, 2020
FarmDoc Daily
Last Modified: May 7, 2020


Upcoming Events
North Country Hay and Pasture School
March 16, 2023
March 21, 2023
March 28, 2023

: North Country Hay and Pasture School
Maximizing Fertilizer Efficiency with Peak Fertilizer Prices: A Weekly Webinar Series 2023
February 23, 2023
March 2, 2023
March 9, 2023
March 16, 2023
March 23, 2023
March 30, 2023

As we begin 2023, we are not expecting fertilizer and nutrient shortages to disrupt crop planning as they did last year, but fertilizer prices continue to be very high. This series of webinars is designed to help farms and producers to accurately assess fertilizer needs and to manage for optimal nutrient efficiency to minimize fertilizer purchases.
Hands-on Calving & Dystocia Workshop
March 27 - March 28, 2023
Cornell Cooperative Extension Dairy Specialists and Cornell PRO-DAIRY are excited to offer a hands-on dairy calving and dystocia workshop across the state in English and Spanish.
Knowing the stages of labor and recognizing when a cow needs assistance are important skills. This workshop will educate attendees on those skills and will include a hands-on experience with a life size model of a cow ready to calve along with her calf. Attendees will be able to practice a variety of dystocia situations. There are 2 sites in Northern NY, with the same program offered each day (in both languages both days). The cost is $75, which includes lunch and all materials. Pre-registration is required and registration is limited to the first 7 English and 7 Spanish participants per day.
Announcements
Dairy Shop Meeting: Calf Care Protocols & Colostrum Management
Dr. Melanie Parker-Geurtsen will be joining us for a
discussion on calf care and colostrum management. Please
feel free to attend yourself and/or ask your calf feeder to
attend. Light refreshments will be provided. Please let
Abbey Jantzi know via email (aej48@cornell.edu) or phone
(315-788-8450) if you plan on attending.
Wednesday, February 15th, 12:30-2PM
Grimshaw Farm: 9922 County Route 152,
Adams, NY