Grains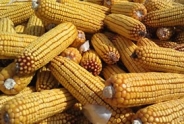 The Field Crops Program provides research-based field crop production recommendations and resources. Assistance is accessible through educational programs, fact sheets, bulletins, articles, websites and individual contacts through on-farm visits to meet the needs of the producers. The field crop program is also very active with on farm agronomic research and demonstration projects. The goal is to improve crop production efficiency through increased yields, improved quality, decreased input costs, protected yields and new technologies.
GRAINS CATEGORIES
Fertilizer Prices Trend Upward in Late 2021 …and Into 2022?
Kitty O'Neil, Team Leader, Field Crops & Soils Specialist
North Country Regional Ag Team
Last Modified: November 8, 2021
Managing Corn Rootworm in NY to delay Bt resistance (& save seed costs)
Last Modified: February 2, 2021
NNY Receives Official "Abnormally Dry" Classification, May 19, 2020
Kitty O'Neil, Team Leader, Field Crops & Soils Specialist
North Country Regional Ag Team
Last Modified: June 29, 2020
Burndown herbicide options in no till soybeans and corn
Mike Hunter, Field Crops Specialist
North Country Regional Ag Team
Last Modified: May 8, 2020
Interim Guidance for Horticulture
Last Modified: May 8, 2020
NNYADP: New Way to Apply Biocontrol Nematodes
Last Modified: May 8, 2020
Potential Pitfalls of Growing Soybean after Soybean
Last Modified: May 8, 2020
Young Farm Entrepreneur Applying NNYADP Biocontrol Research Results
Last Modified: May 8, 2020
Guidance for the Horticulture Industry
Kelsey O'Shea, Agriculture Business Development
North Country Regional Ag Team
Last Modified: April 28, 2020

How to Manange COVID-19 Risks on Dairy Farms
Last Modified: March 19, 2020
Soybean Cyst Nematode Now Confirmed in Six Additional Counties in New York
Mike Hunter, Field Crops Specialist
North Country Regional Ag Team
Last Modified: February 5, 2020
Ear to Ground November 20,2019
Last Modified: December 9, 2019


Upcoming Events
Dairy Day 2022
January 18 - January 20, 2022 : Dairy Day 2022
Join us VIRTUALLY for the main dairy program offered for FREE by Cornell Cooperative Extension this winter in the North Country. This 3-part seminar will provide the latest information on dairy production and farm business management, emerging trends, and local research updates.
Dairy Reproduction and A.I. Training Course
January 25 - January 26, 2022
Attend this 2-day training course to become trained in dairy reproduction and artificial breeding techniques. There will be classroom sessions in the morning, followed by hands-on practice on farm in the afternoon. After this class you will be trained to artificially inseminate dairy cattle.
26th Annual North Country Crop Congress
February 4, 2022
February 11, 2022

The 26th Annual North Country Crop Congress will be February 4 and the 11th,2022 and begin promptly at 10:00 a.m. and end at 12:15 p.m Agricultural experts will discuss the latest crop production technologies and agronomic research that will affect many farms in the region. This event will be hosted online as a live event via ZOOM.
Announcements
Finding Funding for the NYS Meat Industry
For more information please click
HERE.
Field Crop Weed Identification and Control Series 2022 | CALS
Cornell Cooperative Extension, Cornell AgriTech and the School of Integrative Plant Science have organized a series of 6 webinars on weed identification and control to be offered on Wednesdays in 2022. They will occur from February 2nd to March 16th (except February 9th) from 12-1pm via Zoom.
STATE AGRICULTURE COMMISSIONER ENCOURAGES THE AGRICULTURAL INDUSTRY TO APPLY FOR
Grants of Up to $50,000 are Available for Eligible Small Businesses With Revenues of Up to $2.5 Million and Experiencing Financial Hardship Due to COVID-19 Department Hosting Webinar for Interested Businesses December 13, Join the Webinar
Here.
The Coronavirus (COVID-19) is spreading rapidly across the world.
Although cities have the most sick people, the disease has reached rural communities of New York as well. Everyone needs to take this very seriously. Agriculture is an essential business, so many of us will continue to go to work. However, we all need to take precautions to stay safe and help prevent further spread of the disease. The key things to do are limit contact with other people and keep everything very clean. We've prepared a new resource to help Spanish- and English-speaking farm employees access credible, multi-lingual information that they can use right away. Here are this links to a printable resource for farms to use:
English COVID 19 Procedures
Spanish COVID 19 Procedures
To see a full list of other relevant resources,
click here
.
How to Manage COVID-19 Risk on Dairy Farms
Straightforward helpful steps to manage risk on dairy farms! We are happy to help talk farms through these steps and develop risk management plans for protecting owners and team members. Reach out to Kelsey O'Shea via email kio3@cornell.edu for more information.
Update - Regional Ag Team Operations during COVID-19
Click here to get the updated information on our operations.